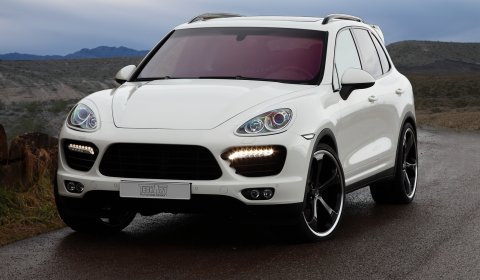 German tuner TechArt has released the complete program and numerous individualization options for the Porsche Cayenne model range, which is available next to the Magnum program.
The TechArt aero kit includes a new engine hood, integrated air outlets, taillight trims and a roof spoiler combined with the three-part tail light trim and integrated spoiler. The exterior styling packages are available in custom colour or in carbon fiber.
The lighting packages offer multifunctional daytime running lights. The LED lighting packages in black and chrome or halogen lighting packages consist of a twin headlight unit with a high-beam and a fog light. The multifunctional daytime running lights unit integrates the day-driving light, sidelights, parking lights and indicators in a single housing.
The power kit TA 058/T1 boosts the power output of the Cayenne Turbo from 500hp to 560hp. The generated torque increases from 700Nm to 780Nm. The German tuner offers also an exhaust system "sport" for an improved sound track.
For the Porsche Cayenne models Formula and Formula II light alloy wheels as well as Formula III forged light alloy wheels in dimensions of 20 to 23 inch are available in the option list. All TechArt wheels are available in individually matched custom colours.
The entertainment kit W2 includes two seven inch monitors integrated into leather monitor consoles in the colour of the vehicle's interior and located at the front seat backrests. A six DVD changer attends to media playback – hidden in the trunk of the car. The roof mounted entertainment kit has a pivoting 10.2 inch monitor. The media console with a DVD player is integrated into the roof liner of the Cayenne.
In addition to the entertainment products, the German tuner offers foldable rear single seats as well as a rear center console for more storage space in the fond of the SUV. The rear center console has a spacious compartment installed, coated with Alcantara and a 12V socket. The glasses are illuminated from the bottom of the integrated holders, however without being warmed up at the same time. Between the rear seats a refrigerator is available for passengers in need of a drink.