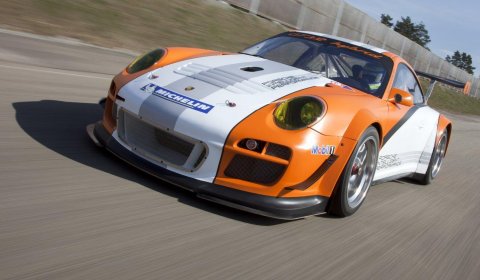 Porsche takes up the Nürburgring 24 hour race on 25 June with a further developed version of the Porsche 911 GT3 R Hybrid. The German manufacturer improved the efficiency through optimizing the hybrid components, which also resulted in a twenty percent weight reduction. Version 2.0 of the 911 GT3 R Hybrid is intended to achieve the same lap times as its predecessor but with less fuel consumption.
The general layout of the hybrid was adopted from the 2010 model. A portal axle with two electric motors drives the front wheels and supplements the four-liter six-cylinder boxer engine at the rear. The output of both electric motors has increased from 60 to 75 kilowatts each. An additional 200hp is available for the racing driver. Depending on the programming, the power is automatically activated through use of the throttle pedal. Drivers can manually call up the extra power, for instance when overtaking.
The new GT3 R Hybrid is distinguishable from the 2010 model. Te large louvres in front of the rear fenders were no longer necessary, due to the optimalisation of certain components. This reduces drag and also lowers fuel consumption. The weight of the vehicle decreased from 1,350 to 1,300 kilograms.
The cockpit of the 911 GT3 R Hybrid has also been completely revised. Most of the displays and controls have moved to the steering wheel. Drivers can operate the rest of the functions via backlit buttons now situated on the center console.