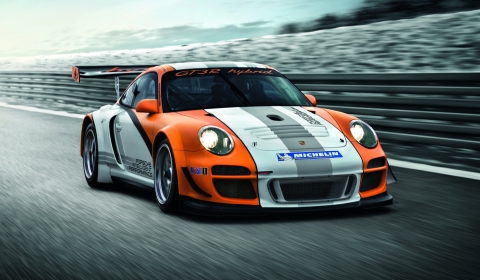 For some an unknown fact, but it is exactly 110 years after Ferdinand Porsche developed the world's first car with hybrid drive, the Lohner Porsche Semper Vivus. The Germans are again taking up the hybrid technology in production-based GT racing, using a similar system to KERS used in Formula 1. The Porsche 911 GT3 R with innovative hybrid drive is making its debut at Geneva 2010.
The innovative hybrid technology featured in the car has been developed especially for racing. In this case, electrical front axle drive with two electric motors developing 60kW each supplements the 480bhp four-litre flat-six at the rear of the 911 GT3 R Hybrid. Porsche uses an electrical flywheel power generator delivering energy to the electric motors.
The flywheel generator itself is an electric motor with its rotor spinning at speeds of up to 40,000rpm, storing energy mechanically as rotation energy. The flywheel generator is charged whenever the driver applies the brakes, with the two electric motors reversing their function on the front axle and acting themselves as generators. Then, whenever necessary, that is when accelerating out of a bend or when overtaking, the driver is able to call up extra energy from the charged flywheel generator, the flywheel being slowed down electromagnetically in the generator mode and thus supplying up to 120kW to the two electric motors at the front from its kinetic energy. This additional power is available to the driver after each charge process for approximately 6 – 8 seconds.
After its debut in Geneva the 911 GT3 R Hybrid will be tested in long-distance races on the Nürburgring. The highlight of this test programme will be the 24 Hours on the Nordschleife of Nürburgring on May 15th and 16th. The focus is not on the 911 GT3 R Hybrid winning the race, but a test case for any future hybrid technology in road-going sports cars.