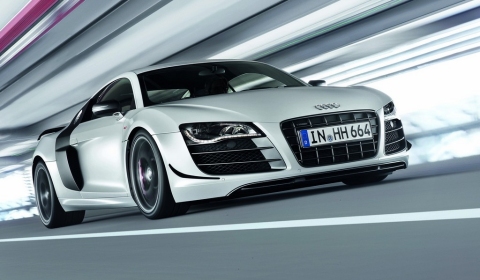 The Audi R8 GT is heading to the USA. The car maker from Ingolstadt, Germany has released the US price tag and indicated that only 90 units will ever reach Stateside. Worldwide a total of 333 units are available.
The GT version of the German sports car is powered by the 5.2 liter V10 FSI engine developing 560hp. This is 35hp more than both the standard R8 V10 Coupe and the R8 V10 Spyder. The engine is mated to Audi's R tronic sequential manual transmission. 0 to 62mph is done in 3.6 seconds and the top speed is 199mph.
Thanks to various carbon fiber parts such as the the rear hatch, spoiler and diffuser, the GT is 180 pounds lighter than the R8 V10 Coupe and also has a lower center of gravity. This shows its benefits in the corners.
The Audi R8 GT USA price list starts at $ 196,800, which does not include the $ 1,250 additional charges, making it more affordable than the European version.