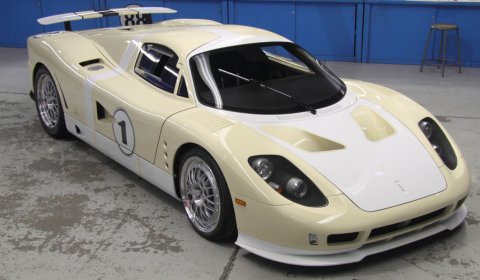 The De Macross GT1 is a brand new sports car inspired by the founder of the company, Mr. Jahong Hur. Mr. Hur has spent thousands of hours working on De Macross theme in the GT1 and other soon to be released models.
De Macross has engaged Multimatic Engineering to provide the performance. The De Macross GT1 is created to perform both on the street and track, with maybe just a fraction more bias toward the track, encompassing overall dimensions reminiscent of Le Mans winners. This mid-engine, two- seat "GT racer" is built on a hybrid carbon fiber – aluminum monocoque tub structure, with integrated front and rear sub-frame modules for suspension, steering, engine and driveline mounting.
The GT1 is powerd by a Roush Yates Racing 5.4 liter supercharged aluminum V8 with maximum power of 800+ bhp, maximum torque of 700+ lb-ft and the redline at 7,000+ rpm. The engine is linked to a six-speed manual transaxle. The racer does 0-60mph in 3.4 seconds, 0-100mph in 7.5 seconds and a standing 1/4 mile in 11.5sec/mph. The top speed is 215+ mph.
Manufacturing of the first DMMC GT1 production prototype is complete. The GT1 was constructed at Multimatic's locations in Canada and the UK.