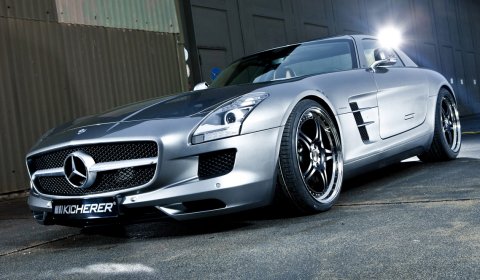 German tuner Kicherer has released new options and accessories for its Mercedes-Benz SLS 63 AMG program. The new addings includes electronic wing doors, a lift-up threaded sports chassis and new light metal wheels.
Closing the wing doors from the seat is very difficult in a SLS 63 AMG. Kicherer now offers a comfortable and very smart solution for this. A patented drive motor between the hinges makes it much easier for the driver or passenger to close the wing door. The wing doors are closed electrically via a button or remote control; this happens purely electrically, without any hydraulics components, either partially or all the way until the doors latch. The unobtrusive, very small modification of the car does not require any holes in the car body. The retrofitting set weighs only 1.9kg and can be installed in both doors within a single work day, under consideration of all safety-relevant requirements.
In cooperation with KW Automotive, the tuner developed a lift-up system for the SLS 63 AMG. The chassis upgrade puts an end to obstacles like car parks, garage entries or steps. A vehicle outfitted with the kit can be lifted up by up to 30 millimetres by the push of a button.
The third new part in the program which was revealed in November of 2010 are exclusive forged wheels. Limited and hand-made, the three-part 20/21 inch wheel is available customised for the Mercedes-Benz SLS 63 AMG in the sizes 9.5Jx20 and 11.5Jx21, with Michelin Super Sport tyres in 275/30/20 and 305/25/21.
More information on the program can be found here!