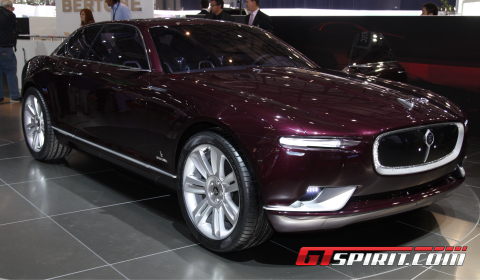 Despite being one of the most interesting cars at the 2011 Geneva Motor Show, the Jaguar B99 Concept won't be build. Designed by Bertone, the B99 celebrated the 99th anniversary of the Italian automobile company which has specialized in car styling, coachbuilding and manufacturing.
The design of the B99 refers to the previous version of the Jaguar XJ. Interesting design details are the rear doors, which are half the size of the front doors and open rearward. The car was designed to display design ideas and attract business with Jaguar. The British automaker is planning a new entry-level model, which could be the successor of the discontinued X-Type.
In an interview with Automotive News the global brand director of Jaguar, Adrian Hallmark said:
It is not our concept. We appreciate the fact that Jaguar is interesting enough for people to do a concept around. It's not that we are offended by it, or against it – it is just not for us.
Jaguar has said that it will bring out a small sedan in 2013 or 2014, but it won't be the Jaguar B99 Concept. What do you think, should Jaguar consider producing this car?
[Via Automotive News]