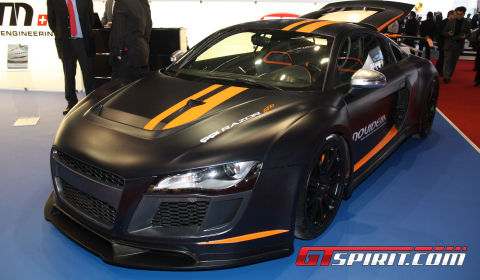 Our tuning car of the year, the PPI Razor GTR-10, was spotted at the Geneva Auto Salon 2011 and got a decent performance upgrade. The supercar was placed at the stand of Swiss company Novidem, because they developed a bi-compressor engine upgrade for the PPI Design Razor GTR-10 Limited Edition and the German tuner from Waiblingen.
The PPI Razor GTR-10 was revealed at Top Marques Monaco last year and is a combination of an exterior carbon fiber package, interior trim upgrade and engine tuning. The result of the upgrade is a V10 engine with bi-compressor package producing 800hp and a car that is 250kg lighter than a standard R8 V10. The bi-compressor package is new to the vehicle. Unfortunately, we do not have any figures regarding the performance.
Next to some decent looks, the supercar now also has some decent performance! The PPI Design Razor GTR-10 BiCompressor has also become a direct competitor to the MTM R8 V10 BiTurbo, also released at the annual Swiss car show.