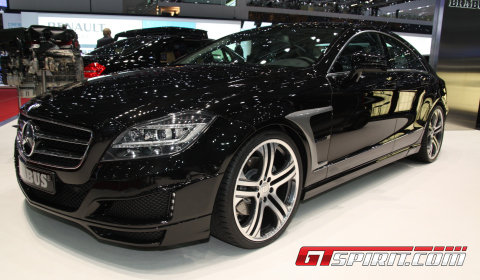 Brabus has unveiled their take on the 2012 Mercedes CLS at the Geneva Motor Show today. The German tuner has already released some information and pictures a few days ago.
The CLS 250 CDI BlueEfficiency model equipped with the Brabus Eco PowerXtra D4 Package delivers and additional 31hp and produces a peak torque of 560Nm. For the CLS 350 CDI, Brabus offers another package that will boost the power from 261 to 309hp. In 'Eco' mode only peak torque is increased from 620Nm to 690Nm while the maximum power output remains unchanged. If the 'Sport' mode is selected, both peak torque and power output are increased. This results in acceleration from 0 to 100km/h in 5.9 seconds and a limited top speed of 250km/h.
The CLS has received a new front bumper with bigger air intakes, a front splitter and new LED daylight running lights. Distinctive are the sport fenders. The sill skirts give the four-door an even lower, sleeker stance. Four tailpipes of the sport exhaust system gives the CLS a more impressive and sporty look while the rear appearance is rounded out with a spoiler.
While we are all still waiting for a new Brabus Rocket this car is great as well. What do you think? Feel free to share your thoughts.