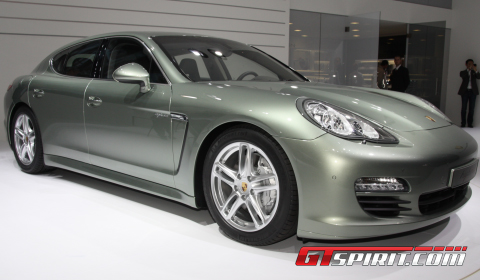 All manufacturers are trying to save the environment by going green. Porsche is taking the same path with their most important release at the Geneva, the Panamera S Hybrid. Luxury, power and the 'green' effect were somehow combined in a four-door saloon.
The Panamera S Hybrid is driven by the same engine combination as the Cayenne S Hybrid. The main propulsion is provided by a three liter V6 compressor engine delivering 333hp supported by a 47hp electric motor. The Hybrid accelerates from a standing start to 100km/h in 6.0 seconds, reaching a top speed at 270km/h. The range in electric mode is a pathetic two kilometres with electric driving possible up to 85km/h, depending on the driving situation.
The Panamera S Hybrid will come on the market in June 2011 and costs € 106,185 in Germany, including VAT and country-specific equipment.