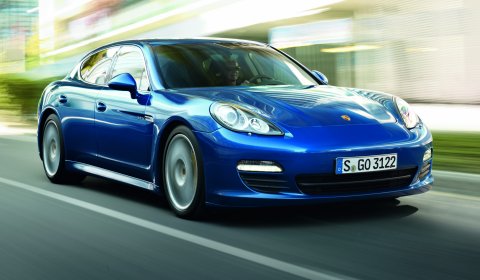 The Porsche Panamera S Hybrid is a new chapter in the line-up of the four-door luxury saloon. The new Gran Turismo combines the total power output of 380hp and sets 'new standards' in terms of classic performance when measured against hybrid vehicle characteristics.
The Hybrid accelerates from a standing start to 100km/h in 6.0 seconds, reaching top speed at 270km/h. The range in electric mode is a pathetic two kilometres with electric driving possible up to 85km/h, depending on the driving situation.
The Panamera S Hybrid is driven by the same engine combination as the Cayenne S Hybrid. The main propulsion is provided by a three litre V6 compressor engine delivering 333hp supported by a 47hp electric motor. Both machines are capable of powering the Panamera S Hybrid either alone or in combination. The electric motor also operates both as a generator and a starter and is connected to a nickel metal hydride battery (NiMh) where the electrical energy recovered from braking and driving is stored. Power transmission is handled by the eight-speed Tiptronic S fitted as standard in the Cayenne models.
The range of standard equipment for the Panamera S Hybrid is wider than that of the already extensive standard equipment of the Panamera S with eight-cylinder engine. For example, the hybrid model is fitted as standard with the adaptive air suspension including the adaptive shock-absorber system with PASM, with Servotronic and a rear wiper. The new Gran Turismo also features the Cayenne S Hybrid's display concept that provides the driver with all the relevant information about the vehicle's specific hybrid driving status.
The Panamera S Hybrid will come on the market in June 2011 and cost € 106,185 in Germany, including VAT and country-specific equipment. The Panamera S Hybrid will celebrate its world premiere at the Geneva Motor Show in early March.