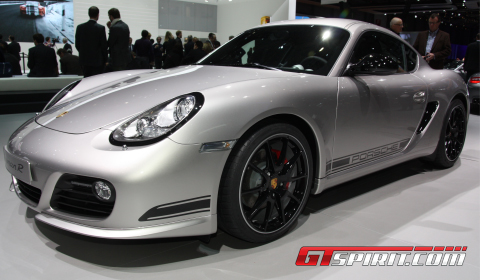 Porsche is celebrating the European debut of 2012 Porsche Cayman R introduced at the Los Angeles Auto Show in November. The new Cayman R is 55 kilograms (121lb) lighter and has ten horsepower more than the Cayman S. With its specially adapted sports chassis, it provides an even more precise driving experience than the Cayman S.
The new mid-engine coupé is powered by a tuned-up 3.4 liter six-cylinder engine developing 330hp (243kW). In the standard configuration it transmits its power to the rear wheels via a six-speed manual gearbox that propels the car from 0 to 100km/h (62mph) in 5.0 seconds. You can also get a seven-speed Porsche Doppelkupplungsgetriebe (PDK) that reduces its acceleration time to 4.9 seconds.
The Cayman R can be supplied with one of the optional Sport Chrono packages, taking it to 100km/h (62mph) in 4.7 seconds. The new mid-engine coupé is capable of a top speed of 282km/h (175mph) with manual gearbox, or 280km/h (174mph) with PDK.
The new Porsche Cayman R has gone on sale in February. The price in Germany is € 69,830.