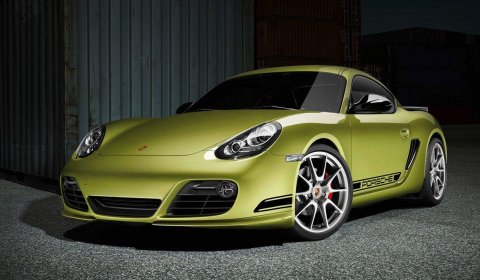 The Porsche alphabet reserves the letter R for very special sports cars. The latest addition in the series is the Porsche Cayman R. The new Cayman R is 55 kilograms (121lb) lighter and has ten horsepower more than the Cayman S. With its specially adapted sports chassis, it provides an even more precise driving experience than the Cayman S. The Cayman R makes its world debut today at the Los Angeles Auto Show.
The new mid-engine coupé is powered by a tuned-up 3.4 liter six-cylinder engine developing 330hp (243kW). In the standard configuration it transmits its power to the rear wheels via a six-speed manual gearbox that propels the car from 0 to 100km/h (62mph) in 5.0 seconds. Or there is the option of the seven-speed Porsche Doppelkupplungsgetriebe (PDK) that reduces its acceleration time to 4.9 seconds. The Cayman R can be supplied with one of the optional Sport Chrono packages, taking it to 100km/h (62mph) in 4.7 seconds. The new mid-engine coupé is capable of a top speed of 282km/h (175mph) with manual gearbox, or 280km/h (174mph) with PDK.
The main aim during the design of the Cayman R was to improve the two-seater even further in its performance, driving dynamics and agility through consistent weight reduction. With a DIN unladen weight of just 1,295 kilograms (2855lb) the Porsche engineers were able to reduce the power-to-weight ratio of the coupé with standard manual gearbox to 3.9 kilograms (8.6lb) per horsepower, with the PDK version weighing 4.0 kilograms (8.8lb) per horsepower. The largest savings were achieved through the use of lightweight components and doing without convenience equipment. As for the 911 GT3/GT3 RS and Boxster Spyder, an optional lithium-ion lightweight construction battery is also available.
In addition, the top model in the mid-engine coupé is equipped with the lightest 19 inch wheels the entire Porsche range can offer. The complete rim set weighs less than 40 kilograms. The vehicle itself has been lowered by 20 millimetres (0.79in) compared to the Cayman S and outfitted with a distinctive fixed rear spoiler, the high-quality silver-painted wheels and numerous sporting highlights on both the interior and exterior. The black-framed headlights, black exterior mirrors and the "Porsche" lettering on the side – in contrasting black or silver, depending on the body colour – complements the package.
The new Porsche Cayman R will go on sale from February 2011. The price in Germany will be € 69,830.