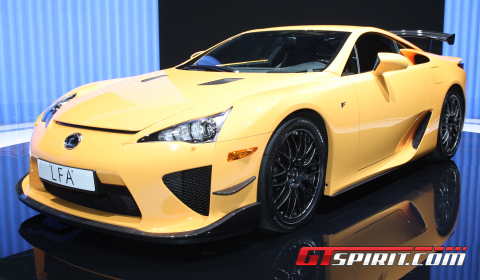 After numerous posts Japanese car maker has finally shown the Lexus LFA Nurburgring Edition in real live. The special edition LFA celebrates the LFA's third, class-winning outing at the 2010 Nürburgring 24h race and is a limited run of only 50 pieces.
The Lexus LFA Nürburgring Edition includes enhanced aerodynamic performance consisting of improved high speed downforce, a larger front spoiler, fin-type side spoilers, canard fin, and a fixed rear wing. The maximum powerwas increased by 10hp to over 570hp to ensure that the LFA maintains its acceleration time of 0-100km/h in just 3.7 seconds and a maximum speed of 325km/h. The maximum torque is 480Nm at 7,000rpm.
The Lexus LFA 'Ring Edition' will be available only in matte black, black, white or orange. For the interior are three colour schemes available: black and red, black and purple or all black. Both on the outside and inside Lexus used loads of additional carbon fiber parts.
For more information on the LFA special edition click here.