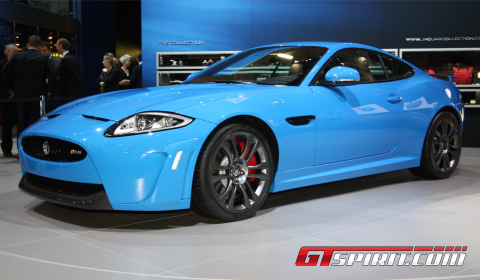 Jaguar has officially revealed the new Jaguar XKR-S at the Geneva Motor Show today. The Jaguar XKR-S is made in honour of the 50th anniversary of the iconic Jaguar E-Type, which made its debut at the Geneva Auto Salon back in 1961. The first information and pictures of this powerful Jaguar appeared one week ago and GTspirit is happy to show some live pictures from Geneva!
The XKR-S is powered by a supercharged 5.0 liter V8, which provides 1hp more than the famous XJ220 from 1992, bringing the total at 550hp making it the most powerful road going Jaguar produced by the British manufacturer ever. The torque of this powerful Jaguar is 680Nm. These specs allow the XKR-S to accelerate from 0 to 100km/h in 4.4 seconds and top speed is 300km/h.
The XKR-S has more modifications like a new sports exhaust system, sharper suspension settings and an improved ESP. The downforce and grip is improved via a new rear spoiler.