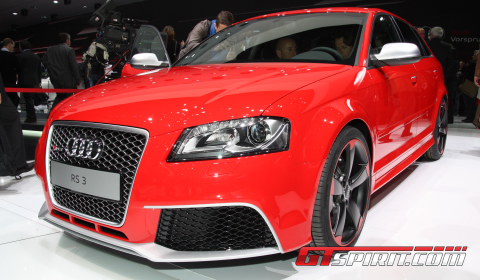 At the Geneva Motor Show, Audi has officially showed the last addition to its RS series: the RS3 Sportback. Officially presented in November last year, the 2012 edition of the Audi RS3 Sportsback is powered by the same engine as the Audi TT-RS.
The 2.5 liter turbocharged five cylinder engine provides 340hp and 450Nm of torque. Power is transmitted to the road via a seven-speed S tronic and quattro permanent all-wheel drive. The RS3 accelerates from 0 to 100km/h in 4.6 seconds and the top speed is electronically limited to 250km/h.
The base price of the smallest member of the RS family is € 49,900 in Germany.