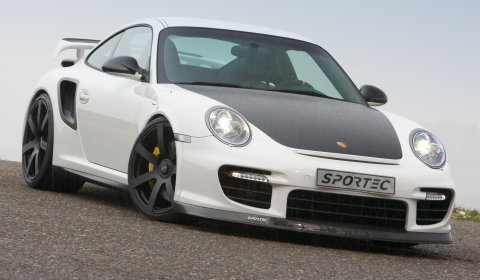 The Sportec SP800R package is based on the most powerful sports car the manufacturer from Zuffenhausen has ever created, the 2011 Porsche GT2 RS.
At the front as opposed to the factory car there is only a front spoiler lip as an addition and the rear got a rear spoiler extension. Both are carbon fiber. The vehicle rolls on 20 inch Mono/7 wheel rims with a diaphragm shutter. The cup tyres size 245/30 and 315/25. The new Mono/7 wheel rim is available in size 9×20 ET40 or according to model ET52 and 12×20 ET50. The wheel rims each weigh 11.3kg and/or 14.3kg. The Sportec sports suspension lowers the German sports car by 25 millimetres.
The performance upgrade delivers 800hp and a maximum torque of 900Nm. This means a performance weight of just 1.71 kilo per horsepower and an acceleration of just over three seconds from 0 to 100km/h and a top speed of 373km/h.
The six cylinder boxer received several upgrades. These include a Sportec K24.800 hybrid turbo charger, a four-pipe titanium exhaust system including catalysers, sports cam shafts, Sportec connecting rods with a special alloy, large intercoolers, newly programmed engine electronics with its own open loop charge pressure control and a sports clutch.