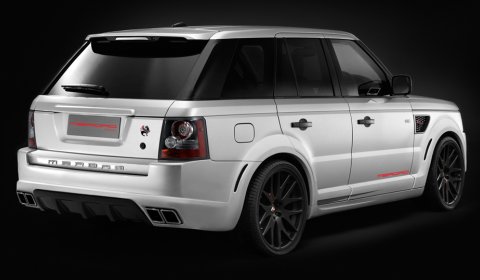 Merdad Collection has announced a brand new tuned Merdad Range Rover Sport. The British tuner has translated his signature design into the 2011 Range Rover Sport Models. The program includes exterior and interior refinements and wheel kits.
The exterior program comes with wider wheel arches, newly designed side skirts, rear and front bumpers conversions, new front and two side grills meshed, which includes the Merdad Lion crest in its centers. The bonnet with air vents and newly developed exhaust system with four end tips complement the program.
The interior can also be refined according to customers' needs and requirements, but as standaard it includes two rear seats with a middle console instead of original three seats in the rear, door entrance panels, racing pedals, racing dials and a newly designed steering wheel.
Two wheel kits are available. The first set are alloy forged lightweight 22 inch racing rims specially designed and built for Merdad Collection. The second series are alloy forged three piece 22 inch five-spoke concaved rims made in Japan. Both kits are exclusively designed and built for Merdad Collecton. They come in silver and black.
Merdad Hoodeh expects to release a tuned Merdad 997 Turbo S Cabriolet with 650bhp and Merdad Range Rover Evoque very soon. Stay tuned for more!