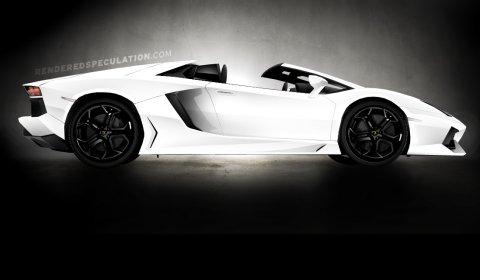 The whole world is awaiting for the official release of the Murciélago replacement, the 2012 Lamborghini Aventador LP700-4. Some artists are thinking further than just the release on Monday evening. The guys at Rendered Speculation have created a roadster variation to the Aventador.
A topless Aventador just seems like a reasonable second-step when you look at the heritage of its predecessor. Two views have been created of what an Aventador Roadster could look like. The designer states:
See that small white panel behind the cabin? We imagine a body panel that lifts up electronically to reveal a lightweight folding soft top for those rain-out-of-nowhere situations. Additionally, we really like the idea of a semi-permanent roof option that owners could install during winter months or prolonged need for dependable protection from the elements.
Feel free share any of your thoughts on these excellent renderings!