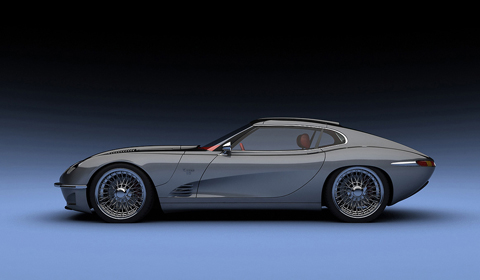 Jaguar is celebrating the 50th anniversary of the famous E-type, perhaps one of the most iconic British cars. On this occasion and upon the request of an anonymous Swiss businessman designers Bo Zolland from the Swedish design studio Vizualtech and Robert Palm, an independent designer based in Switzerland have created the Growler E 2011.
The car will be based on the Jaguar XKR and powered by a supercharged 5.0 liter V8. While this engine delivers 510hp, the designers imagine that this will be tuned up to produce 600hp thanks to engine remapping.
While most of the components of this car will be taken from the Jaguar XKR, the Growler E will save weight through the use of light materials like carbon fiber in the chassis. Therefore this car will weigh 200kg less than the XKR, so the Growlers weight is only 1550kg. Because of this, the Growler E should outperform the Jaguar XKR. The acceleration from 0-100km/h is projected to stay under four seconds.
Vizualtech says that if there is some demand, it may commission construction of a small series which should be hand-built. The price for this great retro design is unknown. Let's hope to see some Growlers growling out on the streets in the future!
[Via Jalopnik]