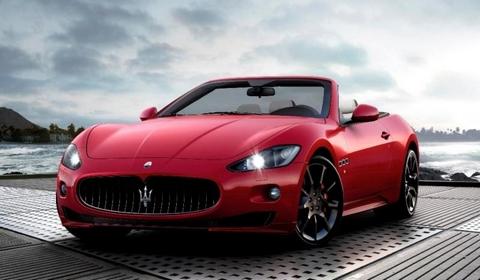 Maserati has one of the best looking convertible's out on the roads with their GranCabrio. But while looking for perfection, there are always details that can be done better. That why the Italians now come with this Sport version of the GranCabrio that will debut at the upcoming Geneva Motor Show in about two weeks.
First eye-catching detail is the color, which is new in the Maserati range and baptized as "Rosso Trionfale". The GranCabrio Sport comes with a refreshed black grill with integrated Maserati logo. The headlights come with a black and white touch that makes the Maserati look more aggressive.
Of course, the engine has had a small cure with an extra 10hp bringing the total to 450 horses. The GranCabrio Sport engine creates an impressive 510Nm of maximum torque, which means a plus of 20Nm. The extra power is derived to the streets through a slightly reviewed gearbox and an adapted Skyhook active-suspension system.
Please stay tuned for more on this new Maserati, next Tuesday live from Geneva!