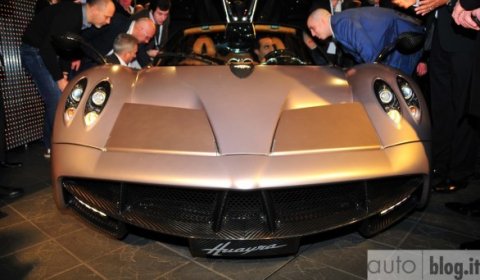 Horacio Pagani is travelling around the world with his brand new family member, the Pagani Huayra. The Italian hypercar builder had a showing last night the Pirelli headquarter in Milan, Italy where he explained what the name Huayra holds. He stated that it references to 'Tata Huayra', the god of wind, which controls the breezes, the winds and hurricanes that affect the mountains, the cliffs and slopes of the Andean cordillera.
Pirelli is development partner of Pagani's new project and will be delivering the special tires for the new Pagani hypercar which uses a Mercedes-AMG provided twin-turbo M158 V12. The displacement of the engine is 5980cc and power peaks at 700 horsepower and 1000Nm of torque.
The gallery with pictures made by Autoblog.it gives an overview of the event held in Italy and shows the vehicle in real live.