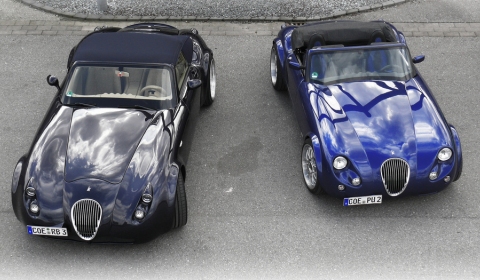 German sports car manufacturer Wiesmann presents its brand new design study of the Wiesmann Spyder at the Geneva Motor Show. The Spyder is an extremely downsized variation which has only one motivation: to provide a maximum of driving enjoyment.
Powerful, ultra-light and purist, the Wiesmann Spyder is the essence of Wiesmann's philosophy. The two seater is the most extreme Wiesmann ever built and introduces itself without doors or even a windscreen. In Geneve there will be a design study presented, which needs to undergo the judgement of the experts. General Manager of the manufactory Friedhelm Wiesmann says:
We want to test the marketability of such cars in Geneve. The feedback of customers, partners and experts has high influence on the consideration of advancing the Spyder model.
Wiesmann has not yet decided whether to put the Spyder into production. If it does go into production, this won't be before 2012. The release of the two-seater concept is combined with the release of the new MF4 and MF5 versions which are outfitted with the 4.4 liter V8 twin turbo direct injection petrol engine. The engine capacity of the MF4 will be 4,395cm³ and 407hp (300kW) at 5,500 to 6,400rpm, the sports car will reach a top speed of 180mph. It will reach 0 to 60mph in just 4.6 seconds.
The top-of-the-range model – the MF5 – will also be equipped with the 4.4 liter V8 twin turbo direct injection petrol engine. The only difference between the two is the performance. The M-motor specifications are 555hp at 5,750 to 6,750rpm, 0 to 60mph in 3.9 seconds and a top speed of 193mph. The new engine makes the MF5 model series the most powerful Wiesmann car ever produced.