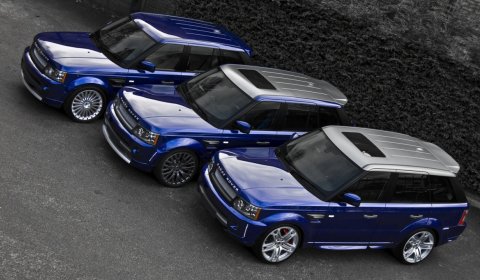 Kahn Design has announced the launch of their latest Range Rover Sport range for the year 2011. Three Range Rover Sport models are standing side by side at the Kahn's forecourt on the pictures shown here. The entry weight Range Rover Sport TDV6 RSE Signature Edition, the middle weight Range Rover Sport RSE300 and finally their heavy weight Range Rover Sport RS600.
The first featured car is the entry level Range Rover Sport 3.0 TDV6 RSE Signature Edition. The Signature Edition sees the introduction of a complete bespoke styling package which includes a front bumper unit, rear bumper unit, roof wing, RS twin mesh front grille and a pair of bullet side vent inserts. Further enhancement to the exterior is completed by utilising the Kahn 22 inch RSL alloy wheel.
Interior components for the Signature Edition include complete bespoke front headrests in twin mesh, Kahn speedo and rev counter, Kahn time clock and bezel insert with Swarovski diamonds, Kahn stainless steel door entry sills and a Kahn leather keyring. Each Signature Edition is fitted with the Project Kahn Acoustic Supersound diagonal quad exhaust system.
Moving on to the middle weight, is their Range Rover Sport RSE300 Cosworth. This is the next model up and carries more or less the same attributes as the Signature Edition but with few additions. In addition to the Signature Edition styling package, the RSE300 has been given a brand new Kahn signature painted floating roof, front bumper unit with integrated LED lights, lower boot spoiler, with a set of Matt Pearl Grey 22 inch RS wheel. The RSE300 has undergone a Cosworth performance upgrade, offering noticeable power increase on the road.
The daddy of the Range Rover Sport range is the Sport RS600, which includes a six-piece body kit with integrated LED lights and tailor made RS600 wheels. The RS600 interior components include bespoke perforated and quilted leather interior package with RS600 logos all round. The steering wheel and gear shift benefit from contrast stitching. Additional parts are the blue time clock, blue speedo and rev counter.