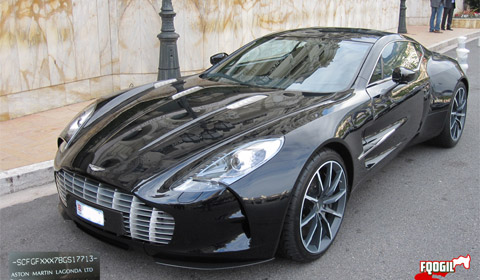 A great day for Aston Martin fans! Aston Martin's new supercar flagship the Aston Martin One-77 is being delivered to the first lucky customers around the world. The Aston Martin One-77 is the fastest, most powerful and most expensive Aston Martin ever build. It is limited to strictly 77 pieces with an initial price tag of € 1,340,000.
In November Aston Martin announced a price increase of an incredible £ 150,000 for the remaining 17 unsold One-77's. With the first cars being delivered now, the last one is scheduled to leave the factory at the end of this year.
The 7.3 liter V12 squeezes out a wonderful 760 horsepower, making it the most powerful naturally aspirated engine in a production car. The One-77 delivers a maximum torque of 750Nm. 0-100km/h is reached within 3.5 seconds and the top speed is 220mph.
One of the first to receive the car is this lucky customer from Monaco. The car was spotted parked in front of the Hotel de Paris in the center of Monte Carlo. Hopefully we will soon see more Aston Martin One-77's on streets around the globe!
[Photos thanks to Fqogil]