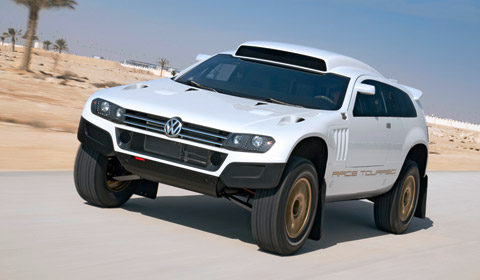 Volkswagen launched a street legal version of the Dakar Rally Touareg race car. The Race Touareg 3 made its debut at the Qatar Motor Show 2011 that takes place this week. Its a tamer version of the car that won this years Dakar Rally in Argentina and features 310hp. The car is still a concept but when there is sufficient demand in the region Volkswagen will consider taking it into production.
This is a genuine Rally motorsport vehicle, like the one that was still touring South America in the Dakar Rally two weeks ago and was built to withstand the toughest rally race in the world. The vehicle now being shown in Qatar is a version of the Race Touareg 3 – an SUV that can sprint to 100km/h in less than six seconds – that is legally approved for use on public roadways. The just over two metre wide body was slightly modified for road use. Instead of 16 inch wheels, new 18 inch wheels from BBS with a gold look are being used. The "Race Touareg" signature – also in a golden colour − stretches the entire length of the vehicle's sides. The exterior paint in "Magic Morning", a white that has a slight gold shimmer to it.
The interior was completely redesigned; all that remained unmodified was the safety cage. Without compromises also means an interior that offers easy controls and is ergonomic. The interior is equipped with Recaro racing bucket seats. Designers created an interior in so-called "Stealth look" that is reminiscent of the aircraft of the same name. In tribute to the Dakar Rally, the Dakar victories are etched in the anodised aluminium of the centre console, right next to the "Race Touareg" signature.
Other trim elements are treated in Matt Carbon. Tuned to this is the roll cage in "Serpentino Grey Metallic." Interior designers have upholstered the seat side supports and the door trim panels with Nubuk leather in "Black" and "Pure Grey," while the centre seat panels are made from perforated Nappa leather in "Titan Black." Additional accents include the two-tone seams and silver piping on the seat covers and safetyrelated items painted in Tornado Red. The only other ingredient that is needed is some time to explore the world on a "360 degree route" in this uncompromising car.