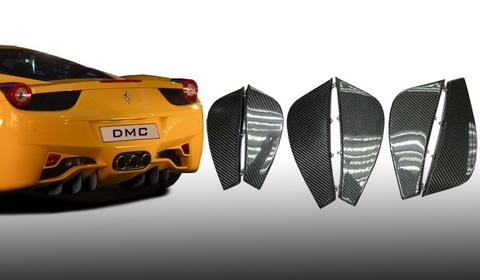 German Designer DMC has a passion for Italian cars and that's probably the main reason why they took a Ferrari 458 Italia into their shop. Over the past few months they've created a styling kit for the prancing horse.
Today, DMC's engineers announce a carbon fiber rear diffuser for the 458 Italia, first of a styling set that will totally include three items.
The trick was to add a new design while staying in line with the original Ferrari look. That's why instead of going totally wild the designers decided to create a painted rear diffuser in the car's original color while swapping the aerodynamic diffuser fins with replacements made of 100% carbon fiber.
Please stay tuned for updates on the final kit that include a pair of carbon fiber sill pads, and complete carbon fiber side mirrors set.