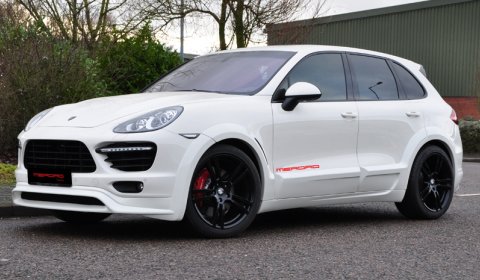 Merdad is continueing its development of the Cayenne Turbo. The first pictures showed a black Cayenne Turbo at the 2010 MPH Show, but these new images were made of a white version.
The four-door Cayenne Turbo includes a full Merdad exterior body styling, special leather interior trim, Merdad "Super sound" exhaust system, electronic lowering module lowering the vehicle 40mm, Merdad Racing 22 inch forged black or silver edition rims, special design alloy racing pedals, entrance blends, floor mat set and steering wheel.
Their next newsletter will include the 2011 Merdad Tuned 997 Turbo S Cabriolet.
Stay tuned for more regarding Merdad's creations at Top Marques Monaco 2011.