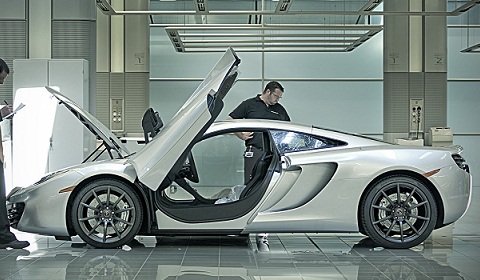 McLaren's latest creation the MP4-12C will have a price start at $ 231,400 in the United States (including $ 2,400 in shipping fees). A total of 1,000 12Cs will be build in the car's first full year with production to increase down the line.
Power for the 2011 McLaren MP4-12C comes from a 3.8 liter V8 twin-turbo engine producing around 600hp mated to a seven-speed Seamless Shift dual-clutch gearbox (SSG). 0 to 100km/h comes in the low three second range with a top speed of more than 320km/h.
The McLaren MP4-12C will be sold through 11 dealerships in the North American market. Dealerships that are open for business now are located in the city of Chicago, Dallas, Greenwich, San Francisco, Tampa Bay and Miami.
Sales in the United States begin in the summer of 2011.