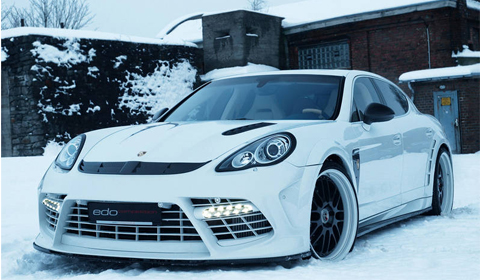 Edo Competition has revealed their new tunning package for the Porsche Panamera Turbo producing 750hp, called 'Moby Dick'.
The 'Moby Dick' features a twin-turbo V8 with an increased output of 750hp, which powers the Panamera to 100km/h (62mph) in less than four seconds, and a top speed of 340km/h (211mph). It also features a new exhaust system, which has been completely redesigned, and features new exhaust tips that fit in with the new carbon fiber rear valance.
The interior of has also gets a make over, with the leather, fabric, finest wood, metal and carbon fiber all being custom made to the customers desires. Edo's electronic lowering module helps to offer improved handling and vehicle dynamics, while the new 22 inch wheels can be custom painted to match the exterior of the vehicle or to provide a contrast.