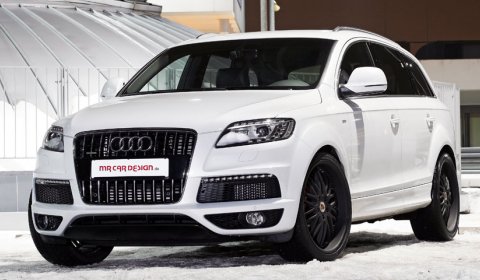 A team led by Marc Reilly, head of the MR Car Design Company from Erftstadt, recently has chosen an Audi Q7 for reconstruction. The end result is visible within this topic.
The Q7 received daytime running lights from 2008 to 2010 levels, installation of LED indicator strip and a performance improvement. The cost of such upgrade is € 6.999.
The software optimization of the 4.2 liter TDI by MR Car Design brings the performance from 326 to 374hp, while the maximum torque rises from 760 to 870Nm. Withdrawal of the Vmax lock adds additional € 799 to the price of the whole package. Use of double-pack K&N air filter adds € 160.
22 inch alloy wheels MRGT22 in 9,5 inch width and Icebear W300 tires in dimension of 265/35-22 are available at a price of € 2,599 total, with deep intervention in the electronics that results to extra € 299.
Within the interior of the Q7 the steering wheel from the current Audi RS6 was installed. The price for this is available to interested parties on request.