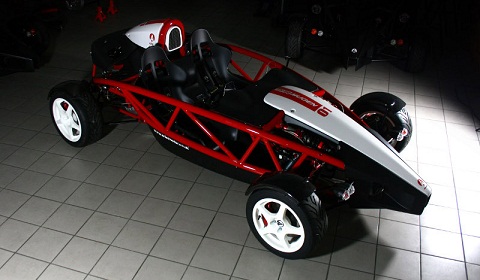 Ariel used last weeks Autosport International Motor Show in Birmingham to present the limited edition Ariel Atom 3 Mugen. Ariel will offer ten of the tuned Atoms at a price of £ 49,740 including VAT. Of the ten on offer only one had been accounted for when the information went to press.
Mugen has added extra power to the 2.0 liter Honda K20Z Type R engine. It now produces 270bhp at 8600rpm with 0-100km/h (62mph) in just 2.9sec and a top speed of up to 150mph. Modifications include a lightened balanced flywheel and a limited slip differential fitted to a close ratio Honda six-speed gearbox. Mugen have also fitted higher compression pistons, high lift camshafts and new valve springs.
On the outside, the Mugen Atom gets a custom paint job, red, four pot lightweight callipers and ventilated front and rear discs. On the inside, a multi-function LCD screen sits in front of the driver and displays information such as gearshift indicators and lap times.