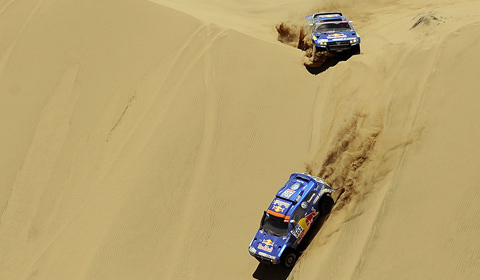 This weekend saw the finish of the 2011 Dakar Rally in Buenos Aires, Argentina. Since the cancellation of the original 'Paris-Dakar' Rally in 2008 the event renamed to simply Dakar and took place in South America from 2009 onwards. Rally drivers in four categories: bike, quad, car and truck conquered 9,500km of which 5,000km of timed stages.
In the car category the Volkswagen Touareg was almighty and came in 1st, 2nd and 3rd with Qatari rally driver Nassar Al-Attiyah taking home the big price. This is the 32nd running of the rally, and over 400 teams are competing in the race with 200 motorcycles and all-terrain vehicles, 140 cars, and 67 trucks.
Continue for more pictures and full results.