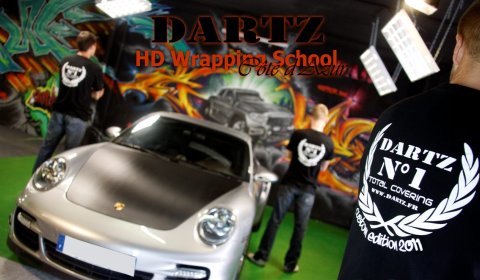 Dartz is back with a new story. They are opening a DARTZ WRAP, TINT & TUNE Academy at the Cote d'Azur in France. The official name includes Tycoon Son, because Dartz thinks not everybody can pay for the 'exclusive' training. Leo from Dartz says:
We know that every tycoon dream that his son won't be lazy moneywaster but real businessman. And not every son want to continue his father business – but every young boy dream about dealing with cars. Cool cars, expensive cars, GT cars, luxury cars. And big part of them are dreaming about own name on car board. We are here! We can give tham opportunity!
There are three stages in the Dartz academy are: Clear Diamond Stage – wrap and tint training on world most suprcars. Our trainings are quite different from other teams – minimum course is three supercar total covering and tinting, not just film sticking. Red Diamond Stage – wrap, tint and tune. In addition to film sticking on car and body Dartz will train the trainee in world most famous design kits installation. Black Diamond Stage – most advanced stage which include car and bike design.
Oh and for those young tycoons that are 21-years-old or older and if their fathers allow – they can also get special Vodka Drinking Master Class in Vodka Drinking.