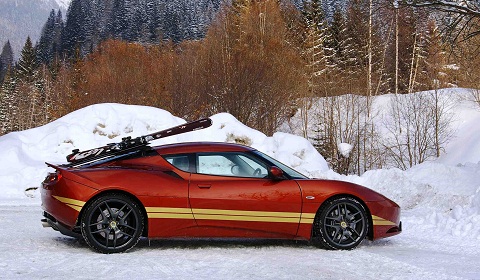 Lotus Silverstone, a UK Lotus dealership, are offering a Lotus Evora painted in iconic livery from the classic Bond film 'For Your Eyes Only'. The Evora was used as a Lotus demonstrator for a press event in the French Alps where journalists got to drive the car on ice. The colouring of the car – bronze metallic with a set of gold stripes along the lower edge – emulates the Esprit driven by Bond in the classic film.
The advert tells us that the car has covered 12,932 miles since 2009 and comes complete with Ski Rack available at extra cost.
Pictures of the car have been flying around the internet for a little while and have fuelled rumours that the Evora may well be the next Bond car. Whilst this isn't true, you can still have a piece of the action for just £ 44,995 (€ 53,500). You can find the advert here.