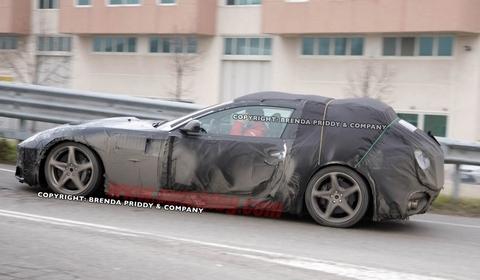 It's a known fact that every major car manufacturer wants to show something new in Geneva. Same goes for Ferrari. During the summer of last year a test mule of the 612 Scaglietti successor was spotted road testing in Italy and now the mule has been spotted again.
Final looks won't be unveiled until the upcoming Geneva Motor Show next march!
Expect an eye-catching Ferrari with a 458 Italia-inspired front fascia, long, raked hood and short rear deck. The 612 replacement will likely use an advanced all-wheel-drive system and power will come from a 6.3 liter V12 creating about 670bhp through a seven-speed dual-clutch transmission.
Rumors go that the new 612 will do the sprint from standstill to 100km/h (62mph) in just 3.7 seconds and have a top speed of up to 336km/h (210mph).
[Via Autoblog]