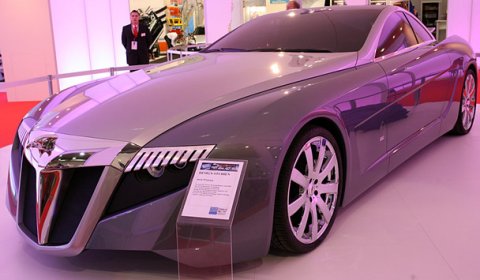 A rather unique luxury vehicle is for sale via Jameslist. The Maybach Excelero shown on the picture is based on the Stola Coupe concept car.
Presented for the first time at the Geneva 2007 show, this Stola Phalcon Coupé is a bespoke luxury coupé limited to only 25. Stola is an Italian coachbuilding company established in Turin in 1919. They are also responsible for the bodywork of the 2005 Maybach Exelero.
The Phalcon Coupé was made possible by the contribution of Brabus, Alcar and Pirelli. The car is powered by a Brabus tuned Mercedes 6,3L V12 biturbo which offers 750hp and a torque of 1,320Nm (electronically limited to 1,100Nm). This is the same engine which powered the Brabus Rocket. Therefore the Phalcon Coupé boasts a top speed in excess of 330km/h (200mph).
The vehicle is for sale by Auto Portrait. The asking price is available upon request. This car is in Italy.