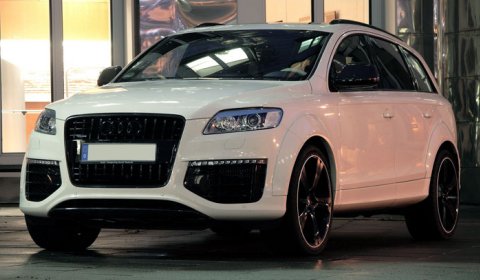 Anderson Germany from Dusseldorf has released their interpretation of the Audi Q7 V12 TDI. The package includes exterior, interior and technical upgrades.
Lets begin with the visible externals. The carbon exterior package includes a bordergrill, front- and back diffuser, mirrorcaps, and roof drip moldings. Grill grate and logos are painted in a shiny black lacquer. The panes and the taillights are darkened, similar are the exhaust ends.
For permanent contact with the road a set of black rims are outfitted to the SUV with a white edge in 10×22 inch with 295/30-22 tyres all around. Behind the rims you will recognize red painted brake calipers.
The twelve-cylinder diesel engine got special air cleaners and software optimization. Overall ten per cent more engine performance has been achieved from the serial version with 500hp to 550hp.
On the inside you will spot numerous changes. The ventilation shafts, the parking brake grasp, the switching jacks, the armature edges on the steering wheel, the door handle inserts, the switch guide plate and the edge of the illumination of the salon got white carbon-applications.
The ventilation edges, the steering wheel, the shift levers, the center console, the speedometer and the radio screen as well as the trim in the doors with carbon applications are coloured opposite in black.
The furniture is partly upholsterred with black Alcantara, partly with black leather, whereby in doors and seats white seams provide loosening-up. A dimmable LED floor space lighting is added to the interior. Even the child seat was improved exclusively.