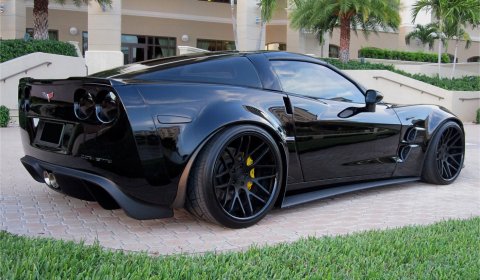 US tuner ZR1 Body Kits has developed this unique wide body kit for the Chevrolet Corvette. The package is inspired by the C6.R Corvette racing cars, featuring an aggressive stance and exterior styling.
Available in two varieties, the more aggressive version called the Extreme Style ZR1 for the C6 Z06 Grand Sport swaps owner for $ 7,599, while the tuning firm also offers the mild OEM-style ZR1 body kit for $ 6,999. The packages are made from fiberglass using compression molds, and keep the factory mounting points.
This Chevrolet Corvette ZR6X Extreme body kit widens the car 1.5 inches when compared to the OEM ZR1 fenders. The space offers plenty of room for new wheels and rubber. ZR1 Body Kits offers a carbon fiber option for the front lip, side skirts, and diffusers.
This is definitely one of the best looking Corvettes we've come across!
More information via ZR1 Body Kits.