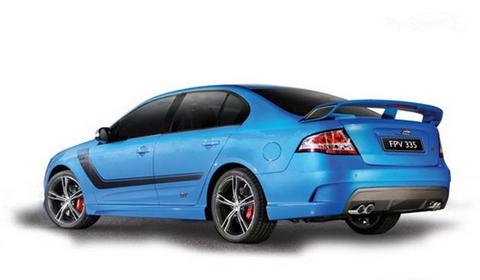 Long discussions about American and Australian muscle cars are a known fact on our website. Holdens and Pontiacs are normalyl nearly the same, but do wear a different badge. Ford now tries to stop our discussion, because they created an Australian supercar with a Ford batch. Result is the stunning looking Ford FPV Boss 355 GT.
Based on the Falcon sedan, Ford Performance Vehicles (FPV) has given the Boss 335 GT an improved power. The 355 GT gets a supercharged 5.0 liter V8 under the hood that creates 450bhp together with 420lb-ft of torque. Also noticeable is that the power is converted to the rear wheels via a six-speed manual gearbox, making drifting rather 'predictable'.
All this rudeness can be yours for just $ 70,000 (€ 53,000 – £ 45,400).