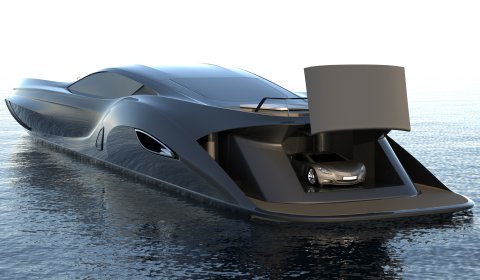 Following the success of the Strand Craft 122, Gray Design has presented the SC166, complete with custom supercar tender, pop-up flybridge and hidden beach club on the fore deck.
Powered by two MTU 20V4000 M93L 2x4300KW (2x5766hp) engines with a Vericor TF50 4177KW (5600hp) booster engine the SC166 is capable of cruising speeds of 30 knots with a top speed of 40 knots.
Contributing to the sleek profile of the yacht is the retractable flybridge and radar mast that retreat into the skin of the yacht when not in use. Both can be deployed independently of each other and are available only when they are required. Twin concealed entrances are available within the yacht, hiding the stairway to the upper aft deck as well as providing access to the garage, bar and lounge areas.
Concealed beneath the carbon fiber inlaid fore deck is a sun deck equipped with a large jacuzzi and a built-in bar. Access is through a vertically sliding glass door in the windscreen of the pilot house where there is ample seating for eight guests. The pilot house itself opens up to the lounge to provide a smooth transition and connection between the driver and the main guest area and at the same time letting in light from the main windscreen to the spaces below.
The Swedish designer states that:
The Strand Craft 166 is an uncompromising superyacht that is as outrageous as it is daring. Designed entirely around an automotive theme, this yacht is ideal for owners who are addicted to that new leather smell. Her low stance, enormous length and curled haunches give this vessel a dynamic aesthetic that is guaranteed to turn heads in the most well appointed marinas.
The SC166 comes equipped with its own custom supercar tender. Created in the same design language as its carrier, the accessory has a 4.3 liter V8 engine producing 620 horsepower and can reach a top speed of 305km/h. Alternatively, you can order your own choice of conveyance to accessorize the superyacht.