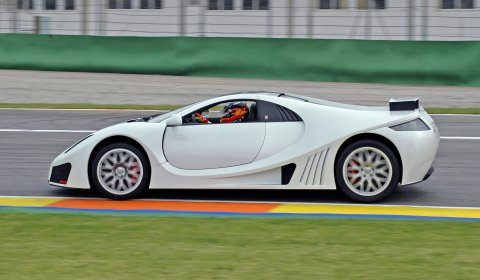 Continuing with its tests programme, GTA Motor recently went to the Valencian Community Ricardo Tormo Circuit test unit to perform its last tests of the year.
On this ocassion, GTA Motor counted on Valencian drivers José Manuel Pérez Aicart and Borja García. The GTA Spano, is already available on the market, and has only 99 units that will be built to confer this vehicle exclusivity.
GTA Spano accelerates from 0 to 100km/h in under three seconds and has a top speed of over 350km/h. Its chassis has been created by combining Kevlar, carbon fiber and titanium. It has a V10 engine which is longitudinally positioned at the rear with 780hp and a torque of 920Nm.
It comes with the latest Pirelli Pzero tyres, which measure 255/35 on a front 19 inch wheel and 335/30 on a 20 inch rear wheel. The wheels are manufactured exclusively for this car.
Its braking system is ABS-based with a 380mm diameter carbon ceramic ventilated disc brake system and six-piston callipers supplied by AP Racing. Its glass panoramic roof provides it with a feeling of openness.