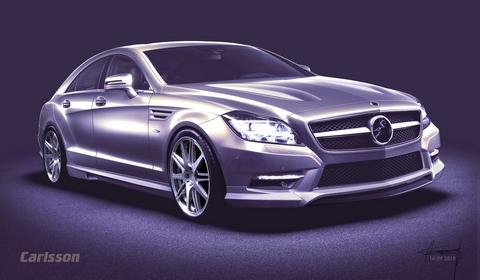 The Geneva Motor Show is one of next year's events where we all look forward to. All manufacturers and tuners are planning to bring something special or new to Switzerland. One of them is Carlsson, who refined the Mercedes-Benz CLS making its official launch in Geneva.
Carlsson has only finished one package for a diesel-engined CLS and one for a petrol model. Respectively the cars produce 320bhp and 333bhp combined with some styled looks.
Carlsson chief designer Rolf Schlepp said:
The package incorporates coupé-style contours and lends the vehicle's exterior a touch of sophistication with the comprehensive aerodynamics package. The new front spoiler, including the RS front spoiler lip (available in real carbon), the power domes for the bonnet and the mudguard inserts (also available in real carbon) ensure an athletic look for the luxurious saloon car, a look which is underscored further by the stainless steel grille inserts. The front apron inserts with LED fog lamps enhance both the vehicle's appearance and its level of safety.
Both the CLS petrol and diesel engined models benefit from the improved performance provided by Carlsson. With their CK35 performance kit, the engineers from Merzig have improved the power of the CLS 350 CGI model from its standard 306hp (225kW) to 333hp (245kW) while increasing the vehicle's maximum torque from 370 to 410 Newton metres. This enables the direct-injection engine to go from 0 to 100km/h in 5.9 seconds, compared with 6.1 seconds for the standard model.
Thanks to the Carlsson C-Tronic Diesel Power additional control unit, the CLS 350 CDI achieves a power output that is a full 20 percent greater than the standard engine. Instead of 265hp (195kW), the self-igniting engine now manages 320hp (235kW) while maximum torque has increased from 650 to 780 Newton metres. This allows the vehicle to go from 0 to 100km/h in 5.9 seconds instead of the standard 6.2 seconds.
We are definitely looking forward to the kit Carlsson will create for the CLS 63 AMG, so please stay tuned for more!