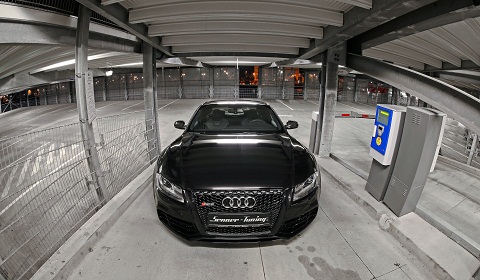 Senner Tuning AG have unveiled a subtle tuning kit for the recently released Audi RS5.
A Bilstein coilover kit, called B16 PSS10, has been added. It allows for 10-stage adjustable damping in both the compression and rebound cycles. The car is wearing two sets of rims too, for demonstration purposes, Spider SC1's on the drivers side and Varianza T1S on the passenger side. Both sets of rims measure 9.5×20 inch at the front and 11×20 inch at the rear.
By way of performance tuning, Senner have increased the power outputs to 506hp and 478Nm of torque. The sprint from 0 to 100km/h is done in 4.2 seconds. Maximum speed has been increased to 280km/h and it's possible to reach 300km/h with a different set of tyres. The power increases have been achieved with a new exhaust system.
The mirrors have been finished in shiny black 245 carbon fabric, a new front grille and window frames have also been added. We're told that optional carbon fiber and custom leather trim are also available on request.
The complete car costs € 113,900, a reconstructed car is € 18,900 including German taxes and TÜV-registration.