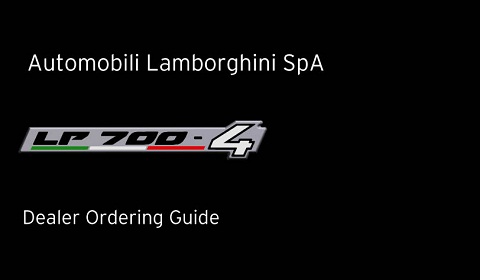 Thanks to a generous poster on Teamspeed forums, we can now reveal to you the full order guide for the 2012 Lamborghini Aventador LP700-4. The car isn't due to be unveiled until the 2011 Geneva Auto Salon, however, potential owners have been given an advanced opportunity to see the car. Accordingly, Lamborghini have opened the order books by providing those willing to put down a deposit with some choice information about the spec for the car.
In the pictures below you'll see full technical details, details on the colours available and the interior equipment.
The LP700-4 will feature 700hp and 690Nm of torque and will be capable of 350km/h (217mph). Three matt finishes will also be made available as well as one new metallic paint option and one new pearlescent. Options will include a transparent body bonnet and a carbon fiber engine cover. Coloured callipers, suspension springs and rims will also be optional as will a whole host of other features.
Take a look at the photos below!