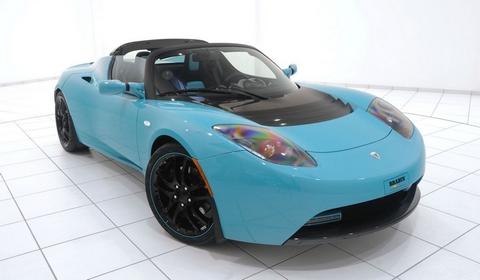 Environmental rules and supercars, a combination that doesn't really fit together. But for German supercar tuner Brabus it is not an issue as they also create packages for electric cars. Together with electricity company RWE they've created this "Sport Green Package" for the Tesla Roadster.
Next to several exterior and interior upgrades, the 'green' package includes a quick charging station for the owner's garage and 30,000km (18,640 miles) worth of electric power from RWE. To complete the package the buyers also receive an one-year pass for free use of all public RWE charging stations.
The charging station gets the job done three times faster, which means that the Tesla Roadster can be fully charged in less than six hours for an operating range of some 350km (220 miles).
Last but not least are some details for the eye. The body can be painted in any color while the car rides on 18 inch front and 19 inch rear Monoblock S wheels. The rims are finished in black and have a subtle outline matched to the exterior colour.