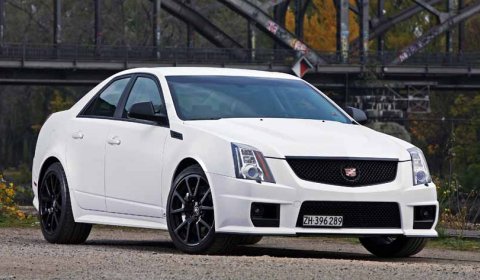 Cam Shaft from Steinbach has released their take on the Cadillac CTS-V. The outer visible surface is foiled in Matt White. Both the doors and their visible edges can be foiled additionally, as an optional feature for the customer. In contrast, all chrome-plated parts including rims have been deplated and spray-painted in Matt Black. The wheel bolts have been Black nickel-plated.
Regarding the engine modification, the compressor drive has been fitted with a kit made by Wait4Me performance. A larger air intake has been polished and installed, and the software have been optimized. The increased by 0.4 bar boost pressure gives the 6.2 liter eight-cylinder engine a total power of 630hp.
The full foil finishing of the outer visible surfaces in matt-white costs € 2250. Deplating and painting of 25 chrome parts in matt black, including wheels painted in matt black and black nickel plated wheel bolts is € 3250. The compressor kit swaps owner for € 3800 including installation.