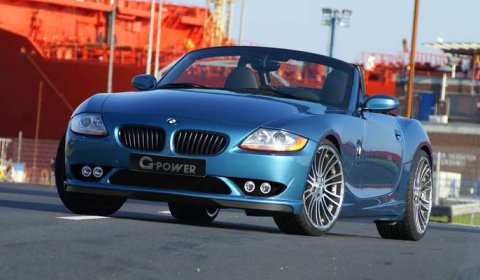 German tuner G-Power has stated that the technology from the 800hp world record-breaking M5 Hurricane RR is now also available for the BMW Z4 E85 and 3 Series E46, delivering a power increase of up to 55hp.
G-Power SK Plus supercharger system has been fited to the 3.0 liter engine in the BMW Z4 3.0i or the BMW E46 330i creating a maximum output that climbs to ca. 286hp at 6,000rpm and 345Nm of torque at 3,500rpm. G-Power BMW Z4 3.0i develops 55hp and 45Nm of torque more than standard. The upgrade is not as much as other upgrades offered by G-Power, but it's enough to get from 0 to 100 km/h (62mph) in a decent 5.4 seconds.
In order to ensure that all this extra power is delivered safely to the road, G-Power offers a combination of the 20 inch Silverstone Diamond wheel set with Michelin tires measuring 245/30 ZR20 on the front and 285/25 ZR20 on the rear and the G-Power "GZ4-RS" coil-over suspension with nine-way adjustable compression and rebound. A hand-built G-Power silencer is made completely inside and out from stainless steel with 4x76mm tail pipes.
The G-POWER supercharger systems starts at € 2,500.00 for the installation-ready SK Plus supercharger system. A TÜV certificate of conformity makes TÜV registration straightforward. If preferred, complete installation including TÜV inspection can also be carried out by G-Power at its headquarters in Autenzell, Germany.