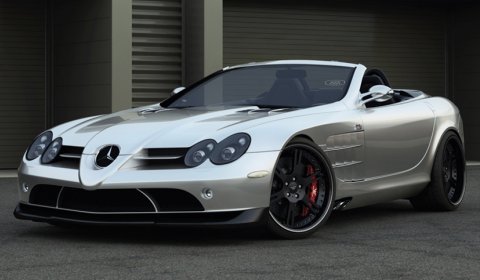 The Wheelsandmore Mercedes-Benz SLR / SLR 722 S program is one of the latest addings to the German tuner's portfolio.
Wheelsandmore increased serial power from 650hp and 800lb-ft up to 730hp and 920lb-ft by upgrading the software setup including a modified pulley adapted to the handmade exhaust system, contending manifolds, sport catalysts and mufflers with remotable valve flaps.
Besides this upgrade the performance is improved by using their forged, three-piece wheels 6Sporz sizing 9,0×20 inch at the front and 11,5×20 inch at the rear. Together with high quality tyres 255/30/20 and 305/25/20 from Dunlop, the wheel set is completed.
Additionally, Wheelsandmore developed an extralight aluminium alloy full race coilover, saving 30% extra of weight. Individual customizing, in particular interior creations and special carbon parts, can be addressed to Wheelsandmore directly.