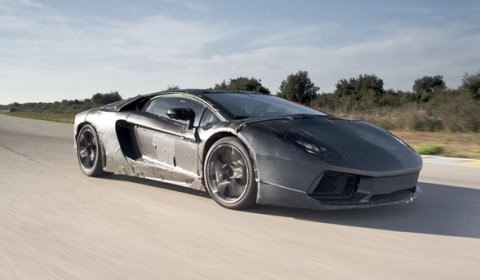 The lucky AutoCar editor Steve Sutcliffe joined the Lamborghini test team in a secret sign-off test at Nardo in Italy. The brand new all-Italian sport car won't be launched until next March, but he got the chance to drive the all-new Lamborghini Murciélago replacement – the Aventador LP700-4.
We share some quoted highlights from the story with you below.
I press the big starter button on the console and the all-new Lamborghini erupts into life, much like every other Lamborghini erupts into life: with an enormous burst of revs, like it or not. But immediately I notice several new characteristics. The sound from the engine and exhaust is smoother and less grainy than in a Murciélago, somehow. And the response from the crank when I blip the throttle is massively more immediate. Before it has even moved, this car feels both more refined and less physically intimidating than of old – less, dare I say it, like a rough old diamond from the good old days and more like a normal kind of supercar. One you'd half expect to see from the more extreme edges of a company like Volkswagen.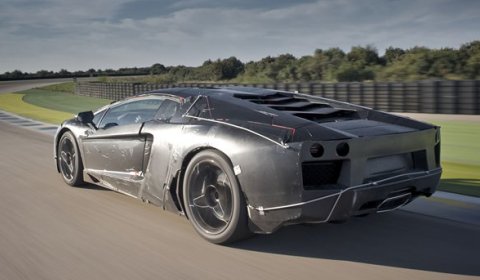 It may not be fully signed off yet, but this car feels more like the finished article than any Murciélago ever did. And it feels faster – much faster – than the old timer as I rumble down towards the high-speed bowl and open the taps wide for the very first time. The kick of acceleration is genuinely outrageous in second gear, as is the speed and severity of the gearchange as the new gearbox slices up through its seven forward gears. At 200mph the front end also begins to bounce slightly, so at 210mph I back off, even though the car is still accelerating. Something didn't feel quite right beyond 200mph on that first run. It turns out that the pushrod suspension was nudging its bump stops due to the cornering load, causing them to act as part of the suspension, hence the bouncing. But this will be eradicated, says Maurizio, before the car goes on sale next year.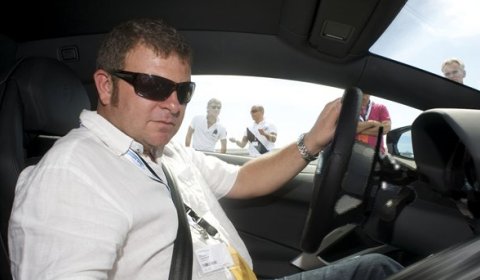 I drive a Murciélago SV first, then all three versions of the new car. Again, the differences in balance, feel, steering precision and speed are shockingly obvious. The SV, all of a sudden, feels clunky and old beside the new car, and nowhere near as stable under brakes or during turn-in. The new car's basic dynamic ability is so much greater, in fact, that it laps the circuit several seconds quicker in the end. And it feels massively better sorted into the bargain. Which means job done, all thing being equal and considered.
Read more about the experience right here!